Armenians in B.C.
St. Gregory's Parish
Pastor
Board of Trustees
CANAR reps
Choir
Ladies Guild
The Armenians in British Columbia
"The Armenians, one of the oldest people in the world, started to come to British Columbia, first in the 1880′s, during the construction of the Canadian Pacific. Then, a small number of Armenian survivors settled in B.C. following the Armenian Genocide by the Ottoman Turks, during World War I. They established their own businesses and prospered. A new influx of Armenians occurred in the 50′s and 60′s, mainly from the Middle East, because of the political upheaval and the treath of an uncertain future."
Excerpt and pictures from "10th Anniversary Celebration Commemorative booklet, June 10, 1990″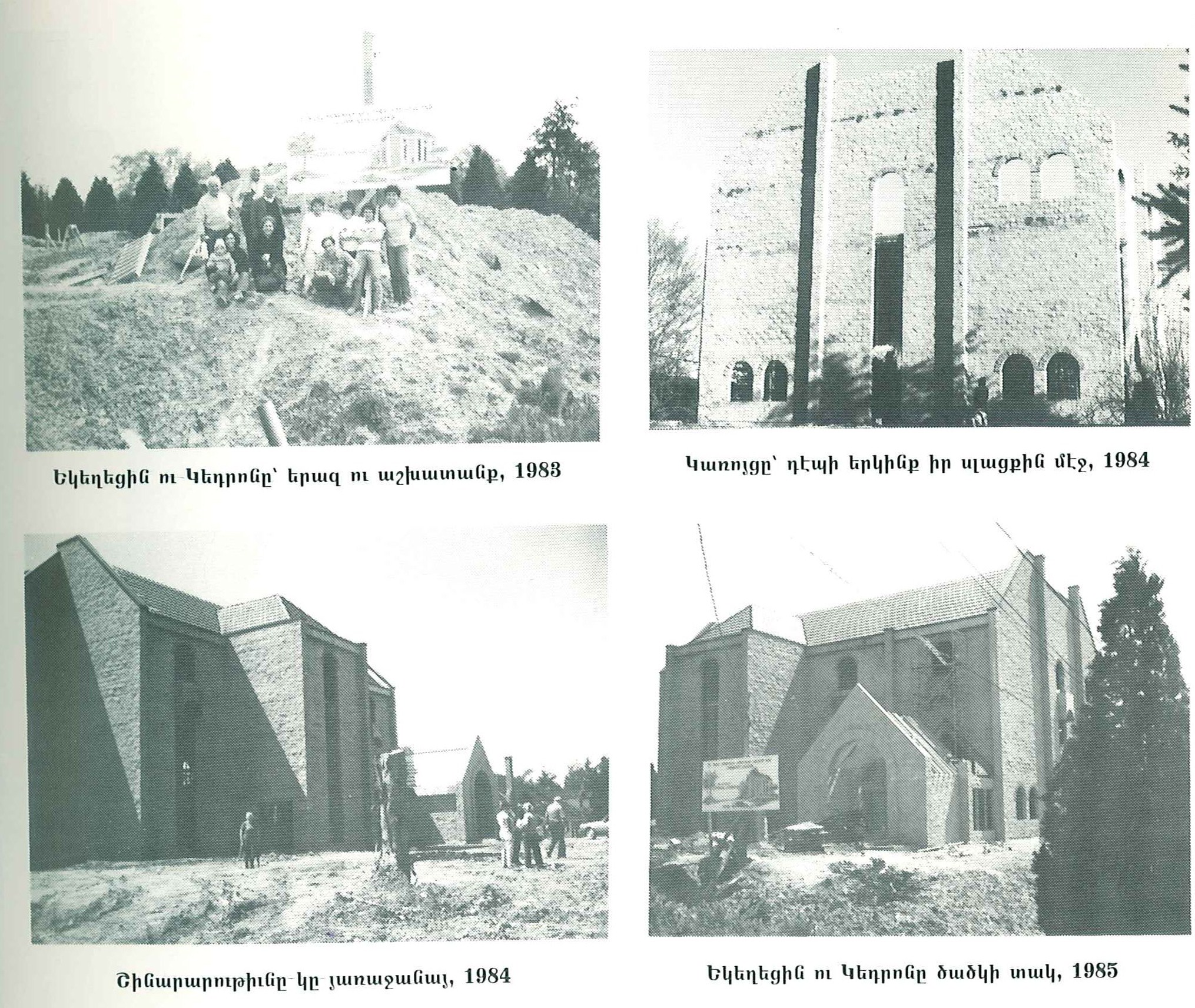 Saint Gregory's Parish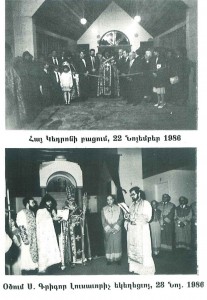 Saint Gregory's Parish was first established as an ecclesiastic community in August of 1980. The construction of the Church and the community center's Lazarian Hall ended in 1986. The anointment (according to our Church's 17 century tradition) and opening took place on November 22-23 of the same year, under the auspices of His Grace Arshbishop Mesrob Ashdjian.
The Church has served the Armenian community of Greater Vancouver, guided by the example of it's patron saint, Gregory the Illuminator, who became the first Catholicos of the State recognized Church of Armenian, in the year 301 a.d.
The following pastors have been the spiritual shepherds of St. Gregory's herd:
H.G. Archbishop Nareg Alemezian (currently, Administrator Bishop of the Catholicosate "Teran Yebisgobos")
Father Nareg Pehlivanian (currently, pastor of Holy Cross Arm. Church in Montebello, U.S.A.)
Very Rev. Fr. Yeghishe Manjikian (currently, residing monk in Catholicosate)
Very Rev. Fr. Vahan Berberian (currently, assistant to the Prelate in Syria)
Very Rev. Fr. Housig Mardirossian (currently, Dean of the Catholicosate's Seminary)
Very. Rev Fr. Hrant Tahanian, current pastor.
Very Rev. Father Hrant was born in Montreal and raised in Laval. Saint George was his parish church, where he served on the altar from a very young age. He attended Sourp Hagop Elementary and Secondary Armenian School, where he graduated from in 2005. He then continued his studies at Collège Montmorency, in Pure and Applied Sciences.
After graduation and in search of a higher truth, he traveled to the Catholicosate of Cilicia, where, in the Seminary, he studied Theology, Armenian Church History and Pastorship.
In 2010 he was ordained a priest, according to the 17 centuries old tradition of the Armenian Church. He served in the Catholicosate, the headquarters of the Church, for two years, taking in charge the different positions given to him by H.H. Aram I.
In September of 2012 he was appointed to be the spiritual pastor of the Armenian community and St. Gregory Church, in Vancouver, B.C. He currently tends to the need of his flock with the help of the Almighty and the prayers of his parishioners.
Board of Trustees – Հոգաբարձութիւն
Eddie Papazian
Chairperson
eddiepap@hotmail.com
Vicken Kullahian
Treasurer
Vicken123@hotmail.ca
Vicken Movsessian
Vice-Treasurer
vicken@dccnet.com
Raffi Chapanian
Secretary
rchapanian@hotmail.com
Vicken Kochian
Vice-Secretary
viken1906@hotmail.com
Ara Baghamian
(member at large)
baghamian@yahoo.ca
Kevork Kochkrian
(member at large)
Kevin@valenzya.ca

Canadian Armenian National Assembly Representatives – Երեսփոխաններ
Ohan Gureghian
Ovsanna Kadian
Hagop DerHagopian
Choir – Սարկաւագաց եւ Դպրաց Դաս
Rosig Bakhtchedjian, Choir Director
Antranig Teghararian, Head Deacon
Nazeli  Sagherian, Chorist
Bedig Bedirian, Deacon
Ohan Gureghian, Deacon
Ara Baghamian, Sub-Deacon
Mher Mardoyan,  Sub-Deacon
Harout Bechrikian, Tebir
Harout Bebejian, Tebir
Arek Bechrikian, Altar boy
Simon Bakhtchedjian, Altar boy
Vicken and Serj Boyadjian, Altar boys
Lorig Kullahian, Chorist
Palig and Karni Kochkrian, Chorist
Anna Bakhtchedjian, Chorist
Aya Chapanian, Chorist
Ladies Guild – Տիկնաց Յանձնախումբ
Active members:
Marie Cavak
Chairperson
mmchatoyan@hotmail.com
Donna Papazian
Treasurer
donnapapazian@hotmail.com
Berjouhie Hogikian
Eriknaz Petrosyan
Ilham Krikorian